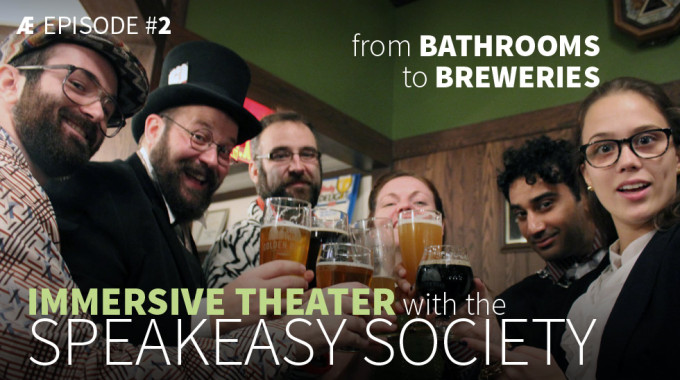 Podcast: Play in new window | Download | Embed
Today's guests are Genevieve Gearhart and Matthew Bamberg-Johnson, two of the three co-artistic directors from The Speakeasy Society, a Los Angeles-based theater company dedicated to creating innovative, site-specific, theatrical events.
Over the holidays, I was fortunate to stumble into one of their hallmark performances — a twisted adaptation of the classic Dickens tale, Ebenezer, which took place at Golden Road Brewing in L.A.'s Atwater Village.
Although Speakeasy has only been around for a few years, they've managed to build a strong reputation and audience around a specific niche in L.A.'s theater community. From experiential programming to interactive performances to cross-sector partnerships, there's a lot to learn from Speakeasy's innovative approach to immersive theater.
In This Episode, You'll Learn…
How The Speakeasy Society is changing the landscape of theater through immersive performances.
How they got their start performing in bathroom stalls at CalArts.
Why identifying and serving a niche is crucial to building an audience.
How a mutually-beneficial partnership with a brewery led to a sold-out run.
How Speakeasy manages to function with three co-artistic directors.
Genevieve's and Matthew's advice for newly-formed companies and solo artists.
Links and Resources
Ebenezer at the Golden Road Brewery (Trailer)
Thanks for Listening!
Thanks again for listening to the Arts Entrepreneurs podcast! If this show has helped you in any way, please share it using the social media buttons you see on the page.
Additionally, please head on over to iTunes to leave an honest review — I'd love to hear what you think. Plus, the more reviews this podcast has, the better it will rank in iTunes and the easier it will be for other artists to find and benefit from it.
And lastly, if you have any questions or know of someone you'd like to be featured on the show, please send me a message on my contact page.
Thanks again to Genevieve and Matthew for sharing their story with us — and to you for listening!
###